My stock pile of belly button rings and what not has gradually dwindled since I bought like 20 of them in high school. I'm getting scared that when I lose the current one I'll be FORCED to finally wear the remaining "69" ring. We all know what baggage comes with the "69" belly button ring (read: Trailer Park).
So I'm shopping for a new stockpile. But OMG, I think in the...IDK....4 years since I bought my last stockpile the rings have gotten EVEN TRASHIER. I didn't think it was possible to get worse than the "playboy," "69," "BITCH," "PORN STAR" dangly bits.
And then I found it. A belly button ring to trump them ALL. The KING of trashy.
BEHOLD,
so WTF I don't even want the picture on the front page of the blog.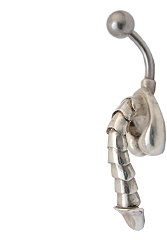 SERIOUSLY!?
SERIOUSLY!?!?!?!!?!?!
WTF.