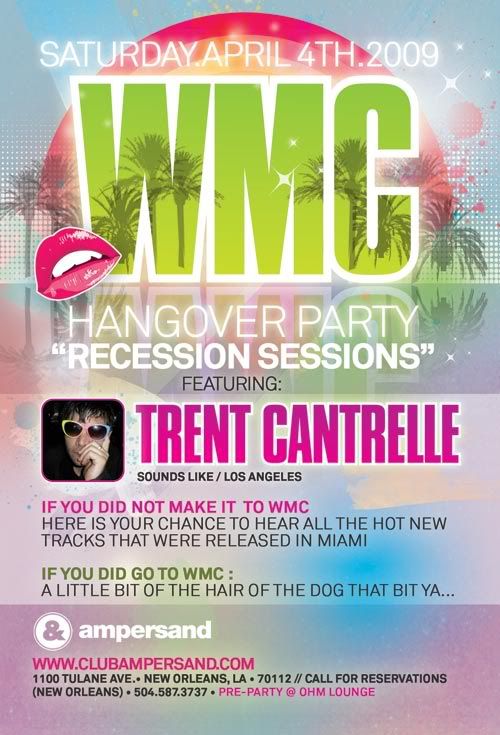 AHHH! My two cities are joining together....

This past weekend was the WMC, or Winter Music Conference for those who don't know. Basically it's like the trade show for DJs and it is AMAZING (if you're 21 and have lots of spare cash). Literally,
EVERY
DJ in the world is in Miami for the WMC weekend and there are events left and right and it's crazy. So much going on that you might actually have to make a sacrifice to see someone. (Eg. Do I see Bob Sinclar or David Guetta because they're both playing on the same night). It's amazing.
I can't personally report on the deets because:
a) The DJs are MAJOR acts so a ticket to one of their club shows is about $300 or
b) Getting into the clubs is HARD because EVERYONE wants to get in. Unless you're buying a VIP table and lots of $100 bottles....I'm going to say getting VIP will set you back ATLEAST $400 dollars....chances of getting in are slim.
c) The events are 21+ and on South Beach. And even with an "ID" it's HARD to get into South Beach clubs because they are STRICT.
And outside of the events there is Ultra Music Festival which is for any and everyone. It is probably one of the greatest music festivals on this planet (provided you like nightclubs). For a mere $200 you can enjoy 2 days of DJs, crowds, and overpriced water. And the crowd isn't a normal crowd....I'd say 95% of the people are on some kind of psychadelic/hardcore drug. (Ultra fest aka Ultra ECSTACY Fest). But really it's great. Next time I have $200 lying around in March I'm going for sure.
WMC ASIDE, Club Amperstand is having a "WMC in New Orleans" event. It's destined to be sick because the WMC in essence is GREAT. Attend it!!! Thankfully people in New Orleans have a heart and probably won't charge you $300 to get in.
I don't know who Trent Cantrelle is...but whatever. Live shows are the best kind.