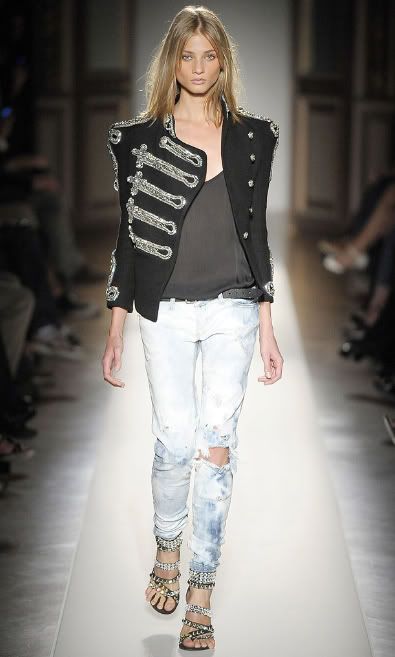 This look from the Balmain SS 2009 collection has just been tearing it up left and right. FIRST, there was a huge frenzy around the jeans. (Which, yes they are cute. I think most of the love comes from how amazing they look on Anna S, the model. Because really you could get something like this from Hollister or make them yourself easy enough).
But the real amazing-ness of this look are the shoes and the jacket. Oh Lord have mercy Kelly Clarkson Eddie Murphy THAT JACKET. I DO WANT.
Here's someone from the Paris Vogue team rocking the another, kind of different, SS09 Balmain military jacket in denim. She is WORKING IT. Jackets are so fierce.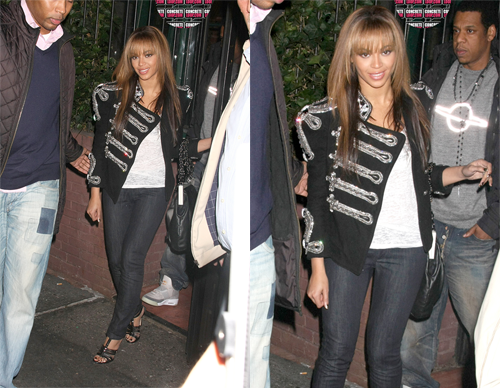 Here's Queen Beyonce ALSO working that jacket. It's a happy break from her usual style because she usually looks a hot, gaudy, mess.
And here is the website that sells the jacket.
...
This was my face for like 5 minutes when I saw the pricetag.
REALLY BALMAIN? CUT A GIRL A BREAK! I can handle $3,000...maybe $4,000 (not to BUY myself but I mean I think those are reasonable prices for FABRIC AND BUTTONS). But $11,000. I do want that jacket, but REALLY?
That's like....half a Mini Cooper right there. It's like 85% of a Mini Cooper from 2003.