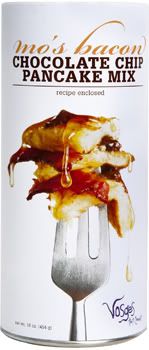 Mo's bacon choco chip pancake mix
Bacon lovers, rejoice! This pancake mix
is all about your favorite breakfast meat.
Featuring a delicious buttermilk pancake
mix and Vosges Chocolates' famous Mo
Bacon Bar chips, it's the perfect mix of
salty, smoky, and sweet! All natural. 16
oz. Shelf life of 6 months.
Ummmm........oooookayyyy......
$14 at FREDFLARE.COM!
Clean up after with some....
BACON FLAVORED FLOSS.
$9 at FREDFLARE.COM