Costume Idea of the day: Alexander DeLarge and his Droogs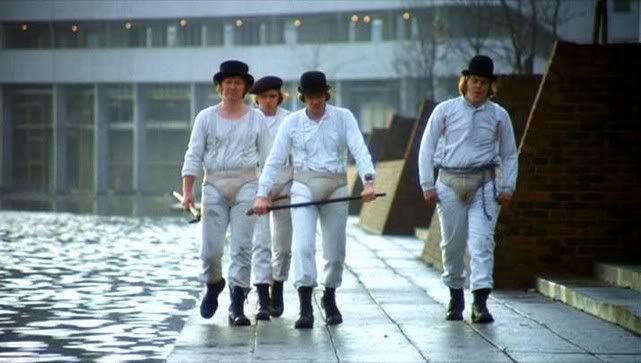 I have this recent fascination/obsession with Stanley Kubrick, BEGINNING with A Clockwork Orange because I think the movie is brilliant. These guys are iconic and it's a relatively simple costume. But more than anything check out A Clockwork Orange, it's really a good movie....and book I hear.
Materials Needed:
- Bowler Hats (black)
- Black Combat Boots
- White button up shirt
- White baggy pants
- White suspenders
- OFF-White nut protector diaper thing
- Depending on your droog, fake body parts and blood (Eg. Alex has fake eyeballs on the cuffs of his shirt). And false eyelashes
- Optional: White Venetian mask with a fallic nose as seen in the most controversial scene of the movie.
Items not Needed:
- Morals and boundaries
To take it a step further and get into character more you can study some
NADSAT
!
And I just had to mention this other Stanley Kubrick inspired costume idea. If anyone has seen
Eyes
Wide
Shu
t you can go as if you're one of the participants of "THAT PARTY." The cloaked ones of course. It's like V for Vendetta/Phantom of the Opera but more risque and cryptic.